Message from President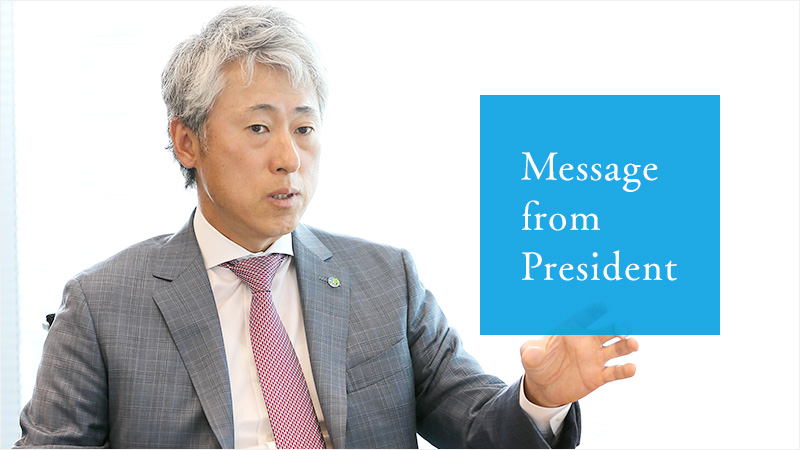 We contribute to the society through the business of temporary equipment and materials for construction
Thank you for visiting our website.The word "temporary equipment and materials" may be unfamiliar to majority of people. Scaffoldings assembled for construction work at construction and engineering sites, and frameworks for supporting unfinished structures are called "temporary equipment and materials". They are very familiar, and you can see them in your everyday life.
As you know, today, "securing safety and considering to the environment" are taken up as the most important theme in most of the industry and the field. Of course, also in the construction industry, this is essential in running a business, and must be the top priority.
Therefore, our mission is to realize safe construction sites where people can work in peace. We believe that this action would lead to the development of construction industry and society, and also to the happiness of people.
For further safe pursuance.
Before rental business of temporary equipment and materials came up, construction companies, such as major general contractors, had their own temporary equipment and materials, and assembled them at construction sites. However, as the time goes by, the division of labor of the construction industry advanced, and more and more construction companies switched their temporary equipment and materials related business to outsourcing. In result, these days, more than 90% of temporary equipment and materials are supplied from rental companies.
In that way, the business model of renting temporary equipment and materials grew. However, after 40 several years, various problems are coming out. Among these various problems, particularly big problem is that "the safety level" of temporary equipment and materials, which is most important, is not yet established within the industry. There is a background that temporary equipment and materials can be used for more than 10 years, and there is a threat that considerably old equipment and materials can also be used in construction sites.
Not for the development of us, but for the benefit of the user and the whole industry, we have been promoting the purchase of equipment and materials with high safety, the development of high value-added equipment and materials, and the formulation of severe operation rule. Also, these days, by using the know-how of temporary equipment and materials, we lay remarkable emphasis on action for improving the position of the industry, such as soil remediation, environmental protection, and disaster prevention. In the future, we would like to propose these actions to rival companies and construction companies, and make it into the standard of the industry with obtaining apprehension.
Takamiya reaches to a new stage.
While we carry through these broad view points, we would also like to advance in business activities with high quality, with reliable supply of safe and value-added temporary equipment and materials as basic axis.
We only have one current wish. To build temporary equipment and materials industry which is recognized to majority of people and investors as expressly excellent one, and accomplish perpetual development with the rival companies in business environment having high transparency.
I welcome your continued support and understanding.
Kazumasa Takamiya
President and Representative Director