For each and every one of us to be a happy society.
Our company's has contributed to society is rooted in our management philosophy of "Love myself," "Love others," and "Love the company."
Contribution to social issues through our products
The issues facing society have become more diverse and their impact has continued to expand. Companies must respond to these issues through their businesses and strengths and provide value to society in order to contribute to a sustainable society and achieve growth.
Takamiya has engaged in business based on the themes of safety, the environment and workability, even before ESG efforts came into focus. In this section, we will introduce some examples of our response to social issues through our products and businesses.
Agricultural houses with outstanding weather resistance:
G-Castle Series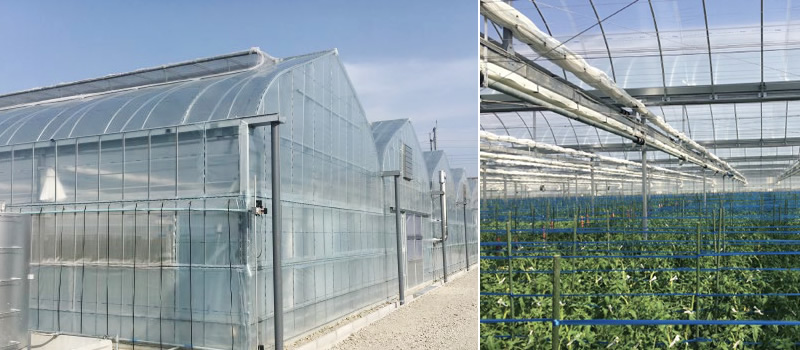 A shortage of farmers is becoming a serious issue, and the national and local governments are implementing assistance measures in response to the serious challenge of food self-sufficiency. In addition, there have been many cases of agricultural houses being destroyed by disasters such as typhoons, with farmers abandoning reconstruction work and quitting agriculture.
We are actively pursuing the development, manufacturing, and construction of agricultural houses in response to these issues. In the field of agriculture, progress has been made in technological improvements in intangible aspects. As for the tangible aspects, there is the issue of insufficiency for suppliers that provide greenhouses at low price with outstanding structural design. We are responding to this issue by taking advantage of the technologies and know-how fostered through the development and manufacturing of construction-use temporary equipment and materials, and provides a one-stop service ranging from the supply of products to construction with outstanding weather resistance. Furthermore, we will continue contributing to the field of agriculture going forward through such means as improving the production efficiency by combining intangible measures such as environmental control.
Contributing to the maintenance and repair of small bridges:
AOS Construction Method
Bridges and transportation infrastructure constructed nationwide during Japan's era of high economic growth are aging. Maintenance and repairs to ensure their safety are urgently needed.
Our AOS Construction Method integrates joint replacement work for small bridges and road floor slab waterproofing work, which shorten the work period by 50% and reduce the cost by a little over 15% compared to conventional methods. The method is expected to be used in small-scale bridge maintenance because it can easily be implemented at room temperature and no large-scale work is required. We will contribute to establishing the safe living of local residents through this method.
Responding to the maintenance and repair needs of infrastructure: SPIDER PANEL
SPIDER PANEL is a panel-type hanging scaffolding that minimizes gaps and unevenness and improves safety and workability. Hanging scaffolding is a type of scaffolding that is installed through suspension with chains, and it is a piece of equipment that plays an important role in maintenance and repair work on infrastructures, including railways and highways, which is expected to increase in the future. With maintenance and repair needs growing, there is a shortage of workers in the construction industry, with supply not able to keep up with demand.
Takamiya will provide a working environment that enables construction workers to perform efficiently and safely and contribute to improvements in productivity and safety in the field.
Diversity work-styles and
human resource development
There is a tendency to define work-style reform as something for improving a company's productivity. However, doing so limits the reform measures to those that are directly linked to productivity improvements.
Diverse ideas and ways of thinking can give birth to breakthrough ideas in ways that are not based on preconceived notions or past successes. To ensure that this potential is not neglected, we believe that the purpose of work-style reform must be to create a work environment that enables diverse personnel to achieve diverse work styles.
The idea that work is a means for enriching life is becoming instilled as a common way of thinking recently. To put it the other way around, if there is a clear sense of purpose to enrich lives, we believe it will improve the motivation toward work and encourage employees to work as efficiently as possible and improve productivity as a result.
Management must also have flexible ideas to create an environment that allows employees to think of and achieve new work styles on their own. In this direction, the management has to present the minimum results and requirements, rather than common measures covering all executives and employee's needs. By extending this approach, the foundations for productivity improvements based on diverse ideas as well as development of future management and executive human resources will be built.
Employees succeeding under the diversity plan
Promoting "Telework"
Generally, it is not unusual that qualified and experienced employees have to give up their career in a company or go on leave due to childcare, nursing care, or similar circumstances. Our management team aims to create an environment where employees can play an active role, so the Company introduced a work-at-home system targeting employees in the Building Estimation Section in April 2018. Under this system, employees can maintain their careers while working at home, meaning they can easily return to their on-site jobs. This way of working is beneficial to both employees and the Company: employees can continue their career and the Company can maintain its valuable workforce.
Numbers of employees/Employees with foreign nationalities
We have introduced a "diversity plan" that actively recruits diverse human resources, and we are also focusing on recruiting foreigners, regardless of whether they are new graduates or Mid-career.
Encouraging Employees to Take Paid Leave / Work-life balance
Refreshment vacation /
Travelers allowance (payment of travel expenses)
Generally speaking, in the construction related business, the utilization rate of paid vacation acquisition had been by no means high. We introduced a leave system called "Refresh 10" in 2011 and "Refresh 5" in 2014 in order to increase the rate of paid vacation acquisition for all employees. We have set up refreshment vacation every five years, so that employees can take a vacation.

Other of paid vacation
・Birthday
・Wedding anniversary
Initiatives for an Aging Society with a Declining Birthrate
Youth Wedding Support System

Monthly allowance of 30,000 to 50,000 yen for employees married under 34 years of age

Wedding Celebration System

300,000 to 500,000 yen celebrated for wedding funding

Social Contribution Allowance (Child Allowance)

Monthly payment of 30,000 to 50,000 yen per child to employees under 34 years of age
Promoting the visualization of information
Disclosing a variety of career-related information
We believe that by disclosing a wide range of information on career development and providing opportunities to compare our current situation, we can promote voluntary actions to realize our career goals. We believe that individual employees' efforts to develop their abilities for career development not only contribute to the realization of management strategies, but also to the sustainable growth of the Group.
Communicating information internally and externally through signage installed in reception rooms and hallways
Employees succeeding under the diversity plan
In the construction industry, which comprises the Company's main customers, the participation of women has become noticeable in areas such as the field supervision and design department. We are also working to develop an environment that allows for the active participation of women as an important human resources initiative.
Until recently, female employees had been assigned to clerical positions to conduct work under male employees in regular positions who managed the flow of overall work and individual tasks at Takamiya. As a result, the female manager ratio of the Company is almost zero. On the other hand, female employees have been placed in management positions for some time now at Group companies, some of which now have female Directors.
Going forward, we will improve work environments by eliminating outdated biases related to gender and job types, and by creating frameworks to ensure that tasks are not reliant on particular individuals. The aim is to establish a structure that allows qualified individuals to take on work regardless of gender and other factors. By identifying the nature of the work and giving chances for everyone to take on, we are able to create a workplace in which Annual individual can succeed regardless of gender or nationality. The foundation of the Company's human resources strategies involves fostering an environment in which individuals from various environments who have diverse values can succeed and establishing a free and open corporate culture that encourages the exchange of opinions.