In addition to increasing the added value of our products in terms of the environment, we are also taking environmental considerations into account at our manufacturing sites and offices.
Reducing our environmental impact at manufacturing sites
Using LED lighting in plants
We use LED lighting, which generates very little heat and contains no hazardous substances, at our plants inside and outside Japan to reduce CO2 emissions and reduce environmental impact by lowering energy consumption. In addition, as LED lighting does not attract insects, we also expect a positive effect on hygiene control.
Introduction of electric forklift
We are introducing electric forklifts that do not rely on fossil fuels to reduce CO2 emissions. Currently, 10% of the forklifts under its own control are electric forklifts, and we plan to continue systematically replacing them. We can also expect to reduce health hazards caused by noise and exhaust gas at the equipment center.
Promoting environmental awareness in the office
Reducing paper usage
We have been promoting the reduction of paper usage by using electronic documents at Board of Directors Meetings and other meetings. This effort contributes to minimizing our environmental impact and reduces printing costs, as well as saving time and labor in terms of distributing and collecting documents. Furthermore, electronic documents are easy to search and access, improving the work environment.
Adoption of temporary equipment in consideration of the environment
It is possible to reduce environment impacts into consideration by making materials of temporary equipment lighter or compact. In addition to pursuing operational efficiency and safety, and because It can be transporting large quantities of materials at once, we are able to improve transportation efficiencies and reduce CO2 (carbon dioxide) emissions.
Light-weight type steel pipes
When all of our steel pipes are joined together, the total length is approximately 12,000km, it is same length as from Tokyo to New York in the U.S. We have replaced all the huge quantities of steel pipes are about 25% lighter than conventional steel pipes. By reducing the weight of the steel pipes, the burden on workers at the construction site has also been reduced.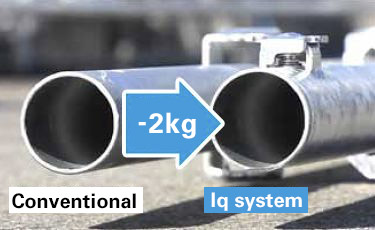 Iq System: Next-generation scaffolding
By making the floor height 190 cm for the Iq System, our next-generation scaffolding, we have secured a large space that allows for working without crouching. We have also improved safety by eliminating gaps at the feet. In addition, it is designed to be lightweight and compact when stored. This also contributes to easing a severe shortage of drivers by enabling transport with fewer trucks than in the past.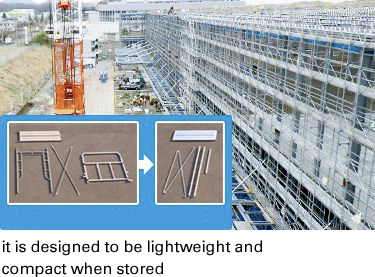 Social contributions
Employees and companies have joined together to establish an "Eco Fund" that is used as funds for local contribution activities. We also contribute to the development of arts and sports by sponsoring theater companies and sports teams.