Establishing new business frameworks
to trigger radical innovation in the construction industry
We have reached the final year of our 2018 Medium-Term Management Plan, in which we outlined our vision to "Create new value through transformation and aim to become a corporate group that drives qualitative development of the industry." We have made great progress with our results to this point. We will create new value that exceeds anything we have achieved before, and pursue a transformation that only Takamiya can bring about.
Surviving in the Era of COVID-19 with a Focus on the Changing Times
The global COVID-19 pandemic has dramatically altered the world. It is also causing major changes to the environment in which businesses operate. Given the need for new lifestyles that enable people to coexist with COVID-19, major changes are needed in the business environment and in corporate management.
The fiscal year ending March 31, 2021 is the final year of our 2018 Medium-Term Management Plan, which was launched in April 2018 under the theme of "Transformation." This theme expresses our determination to support the qualitative development of our industry by renewing our business model in anticipation of the changing times.
The megatrend in the construction industry is a shift in focus from new construction to renovation, maintenance and repair. Reconstruction of office buildings has already progressed, and going forward, large-scale repairs, maintenance and improvements of infrastructure such as bridges and highways is expected to commence. In Japan's Kansai area, infrastructure development and reconstruction of existing buildings are expected to move forward in tandem toward Expo 2025 Osaka, Kansai, Japan and the development of integrated resorts (IR). Also, construction for disaster resistance is a pressing issue amid concerns regarding the anticipated Nankai Trough Earthquake and frequent abnormal weather. Investments in this area from governments and the private sector over the last few years have reached a total of over ¥60 trillion, and continue to increase.
Industry-related Projects

While demand for redevelopment of infrastructure is high, we cannot afford to be overly optimistic. One reason for this is the shortage of manpower in the industry. Recently, the impact of the COVID-19 pandemic has changed the employment situation, so perceptions of a labor shortage have faded. However, we do not foresee a labor surplus or decreasing construction demand. There will be a greater need to secure excellent human resources and improve productivity.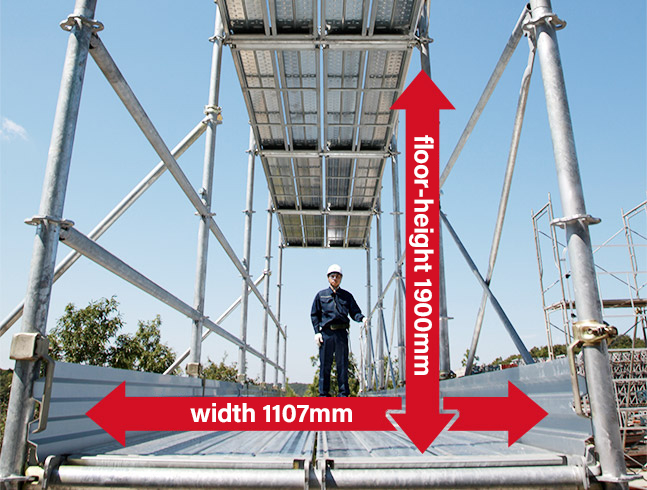 The next-generation scaffolding "Iq System"
Takamiya has been working on an initiative to address this issue. Called "Iq System," it is next-generation scaffolding featuring high safety and workability that surpasses existing products. Iq System supports a worksite environment in which workers can carry out installation safely and securely, and also raises efficiency in ways such as reducing product management and transport costs, thereby contributing to productivity improvement. In the construction industry, the term "next-generation scaffolding" has steadily spread as awareness increases, giving rise to new changes. The Iq System market has grown largely according to plan, with no major deviations from our initial forecast for 2020, and we have secured the top share of the market. Also, we forecast that next-generation scaffolding will be in the majority within the next five years. We can see the positive response to the first moves we took based on industry trends and economic conditions.
However, we are focusing on even larger changes. We are aware that further forward-looking transformation will be necessary, following on the added value of labor-saving and improved safety in installation that we have provided in supplying scaffolding to construction sites.
Creating New Business Models
by Combining Enhanced Functions
Currently, the Company is focusing on the transformation of the very nature of its business. This entails the provision of frameworks that provide exceptional convenience for our customers. If we define the value the Company has offered to this point as "providing safety at construction sites," then our next transformation could be defined as "providing a one-stop source of all services related to the construction business."
Let me explain in more detail. The Company started with temporary equipment rentals. We have slowly expanded our resources and now operate under five functions: development and manufacturing, design and installation, rental, sales, and management and logistics. Specifically, (1) product development that revolutionizes construction sites and development and manufacturing functions for stable supplies, (2) sales functions, (3) rental functions that optimize product distribution, (4) design and installation functions that calculate the necessary amount of equipment at worksites with the aim of facilitating customer utilization while thoroughly reducing workload in ways such as undertaking operations until assembly, and (5) management and logistics functions handled by sales offices and equipment centers in every part of the country. Because we have now achieved a high level of functionality in these areas, we are well-placed to combine them to provide the "framework business."
We have already started to provide frameworks with Iq System. In our "Iq Sharing" service, after customers install Iq System, they can manage equipment using our equipment centers and share equipment with other customers. Our conventional Iq System has become the de facto standard in the industry through in-house development and manufacturing, promotional activities during the provision of installation contracting services, and growth of rental and sales. By combining these functions with our management and logistics functions, we can design "efficient use of the customer's equipment." Making best use of the Company's frameworks will lower costs for the customer and become essential for business continuity.
Structure of the Sharing Business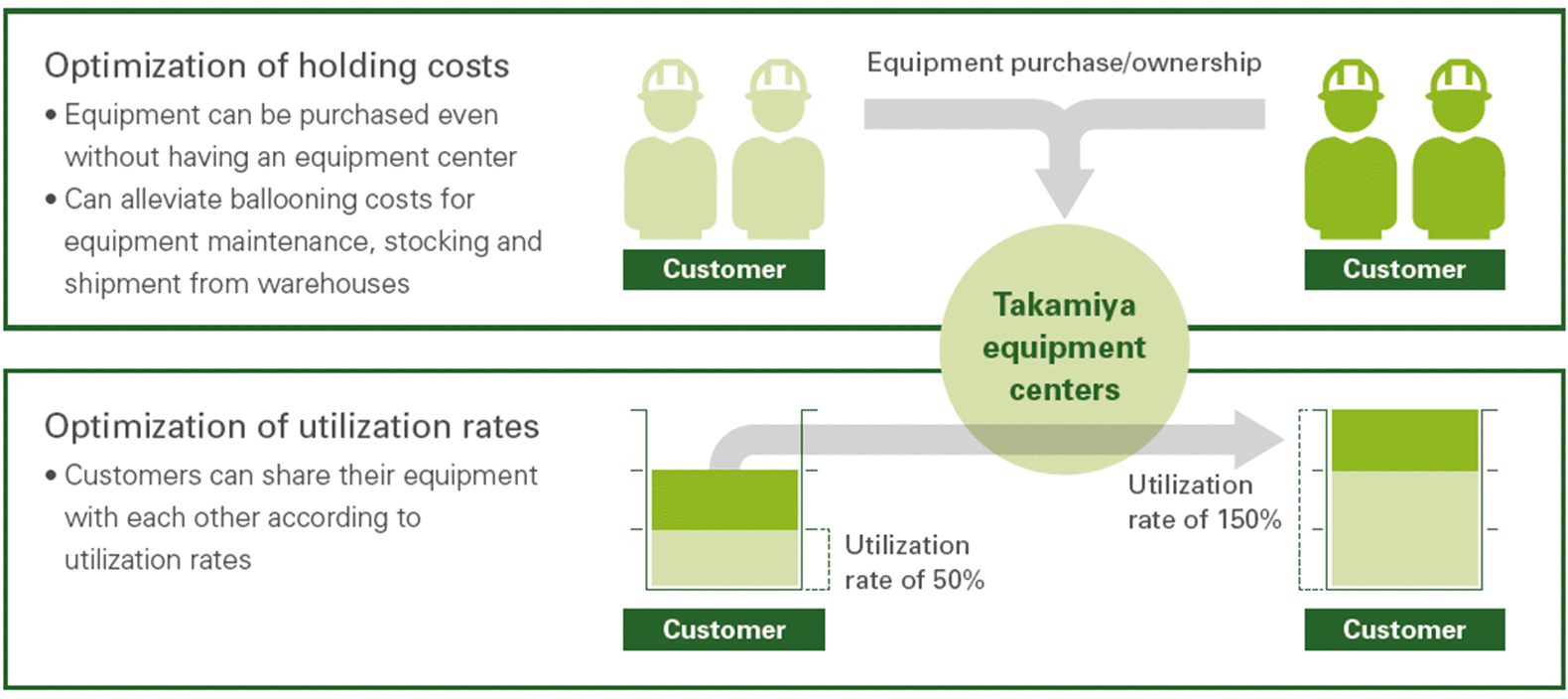 The framework business has the advantage of being applicable to all purposes—it is not limited to specific products or fields. It is possible to use frameworks for equipment other than Iq System equipment. In the Agriculture Business, for example, we have already structured and applied a framework including our development and manufacturing, sales, and design and installation functions, but we believe there is room for progress. Going forward, the Company will need to consider what could increase customer convenience and how to use our frameworks accordingly. Of course, our policy of raising the efficiency of each individual function remains unchanged. We will continue working to establish equipment centers in urban areas to increase the ease of transporting equipment, as well as to reduce costs and increase productivity at manufacturing worksites, among other efforts. Going forward, however, we will not raise the efficiency of single functions in isolation. We will think from the point of view of what investments and initiatives will maximize the value of our framework business and give it optimal form. Therefore, our theme for the fiscal year ending March 31, 2021 is "Optimization."
With our transformation, customers will be able to conduct their businesses very efficiently by making use of the frameworks we provide. Also, we will shift away from businesses that generate profits through upfront investments and management of tangible assets (amortized rental assets). We will avoid price competition when tangible assets are largely amortized, and instead focus on investments such as human resource development that will lead to the next innovation. Beyond these initiatives, I am confident that we will truly achieve the "qualitative development of the industry" as set forth in the Company's current Medium-Term Management Plan.
Preparations for Our Transformation Are Steadily Progressing according to Plan
Looking at our performance for the fiscal year ended March 31, 2020, Iq System became a driving force in both the Sales and Rental businesses and drove our results to record highs, in line with our 2018 Medium-Term Management Plan targets. In key measures involving investments in rental assets, we made a partial revision regarding overseas investments. Our other policies are generally progressing according to plan, and the utilization rate for rental assets has improved substantially.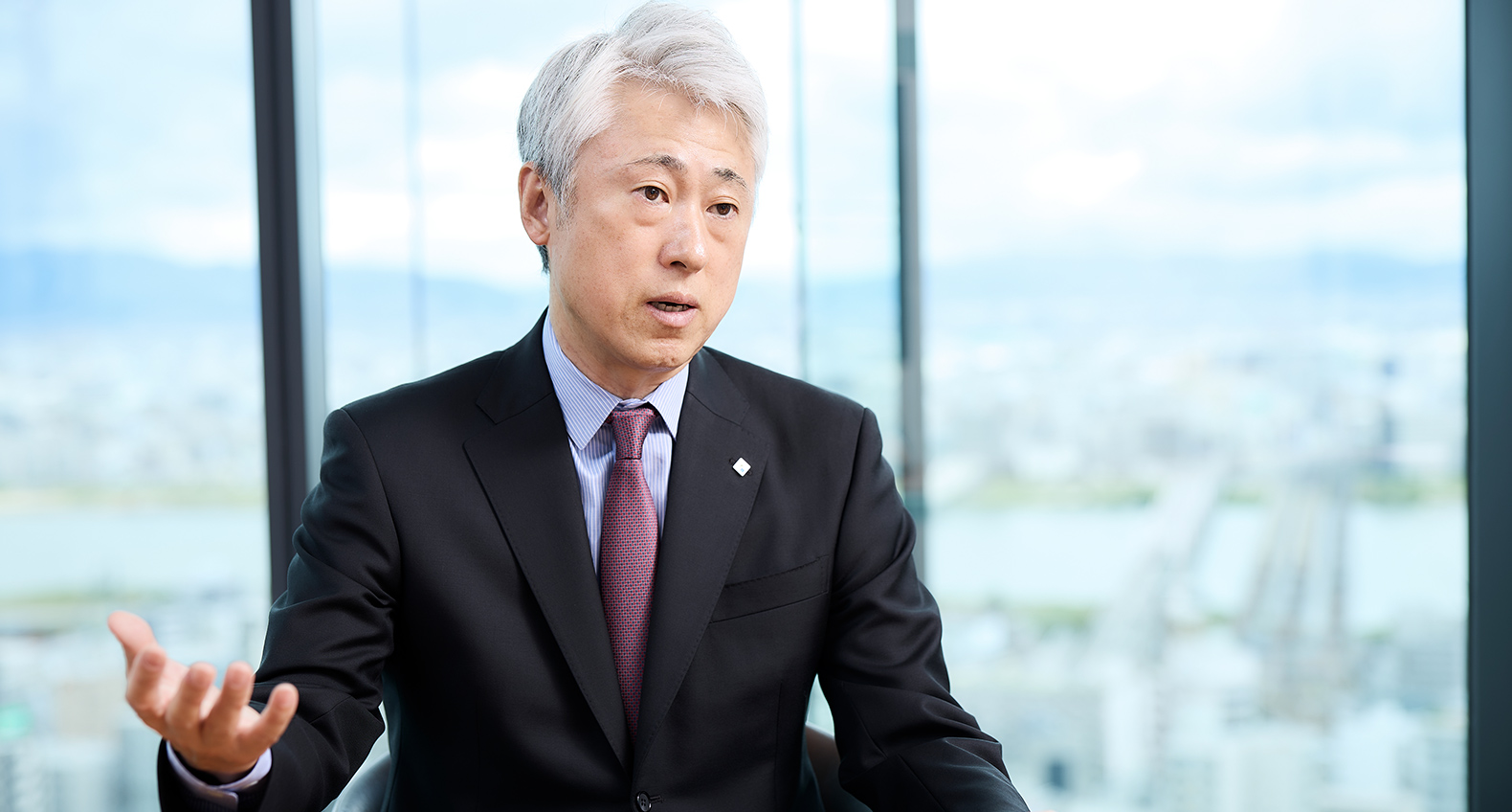 HORY VIETNAM Co., Ltd.
In the current Medium-Term Management Plan, we are continuing to strategically invest management resources in the plan's four basic policies—strengthen management foundations, drive innovation in the earnings base, accelerate overseas business development and create new growth businesses—and are focusing our efforts on transforming the Takamiya Group. In the fiscal year ended March 31, 2020, we had a particular focus on improving productivity. This is because productivity is key to strengthening capacity in the manufacturing field. Specifically, in addition to raising the manufacturing capacity of our four operating factories, we expanded the Vietnam factory (completed the third phase of expansion) in pursuit of optimization. At the same time, progress in turning the Vietnam factory into the main manufacturing base for products sold in Southeast Asia advanced our efforts to raise efficiency.
As mentioned previously, the fiscal year ending March 31, 2021 is the last year of the current Medium-Term Management Plan, so we are preparing for the next Medium-Term Management Plan. In the next plan, we aim to generate innovation by creating new frameworks. As one of our initiatives to achieve this, we are conducting the Project Leader Conference, with the participation of our new generation of leaders. The Conference involves, for example, simulations of automation for loading operations at new equipment centers. By thoroughly verifying matters such as the extent to which computerization (use of IT and AI) raises efficiency and the issues that may arise from computerization, it is possible to consider the projects that we should invest in going forward. In order to make computerization a reality, we also need to strengthen our IT personnel. The training and strengthening of human resources is a management issue for achieving our transformation, and we are moving forward with related initiatives.
In the Sales Business, by deploying a strategy of selling to small enterprises in order to increase the uptake of Iq System as the industry standard we succeeded in achieving double-digit growth in both income and profit. The shift to next-generation scaffolding by our competitors and the acceleration of next-generation scaffolding use in the industry have raised the possibility that new customer acquisition could decline in the future. On the other hand, we expect growth in demand from existing customers in the form of repeat orders for renewals or for extra services. We have expanded our sales targets from large corporations to include small enterprises, resulting in an overwhelming increase in the number of customers. This should lead to stable repeat order demand in the future.

Weather-Resistant Pipe House "G-Castle series"
We have also focused efforts on developing new products and further strengthening our manufacturing capacity. Going forward, we will refine our capabilities as a manufacturer through joint development with customers of products needed at worksites, the development of highly versatile products, and by strengthening our information gathering capability and establishing a global procurement system that quickly addresses customer needs.
In October 2014, we started our sales and installation business for agricultural greenhouses (the Agriculture Business). We will work to expand the market by highlighting the merits of our products—low cost, high weather resistance and fast installation—through in house cooperation between construction departments, in addition to leveraging our strengths in metalworking.
We expect the Rental Business to produce the most stable earnings among all of the Company's businesses. This business has achieved double-digit growth in both income and profit, as well as two consecutive fiscal years of earnings growth while restraining capital expenditures. Behind this was the high utilization rate for rental assets due to strict operations management, in addition to an increase in new customers for Iq System, and firm repeat rental demand. Specifically, we succeeded in expanding earnings by conducting operations while managing product component proportions from the design stage of scaffolding, as well as strengthening preparation capabilities to shorten the time from equipment return to the next shipment.
Going forward, we will work to further expand our earning capabilities by responding to growing demand through initiatives, including AI and IoT, for even higher productivity and quality, as well as by introducing new frameworks.
In the Overseas Business, we are largely at the upfront investment stage. However, in the fiscal year ended March 31, 2020, we were finally able to secure earnings throughout the period. In the ASEAN region, demand for manufacturing, sales and rental of temporary equipment is growing due to factors including investment in the Philippines in areas such as construction of public infrastructure and urban development, and Vietnam's moves to attract foreign corporations. In this environment, focusing on sales activities to build local corporate and personal networks has made it possible for us to obtain information at the initial stage of projects.
Given the global impact of the COVID-19 pandemic and other factors, we expect difficult conditions to continue for the Overseas Business in the fiscal year ending March 31, 2021. However, we plan to strengthen sales and marketing at our sales base in the Philippines.
Business Results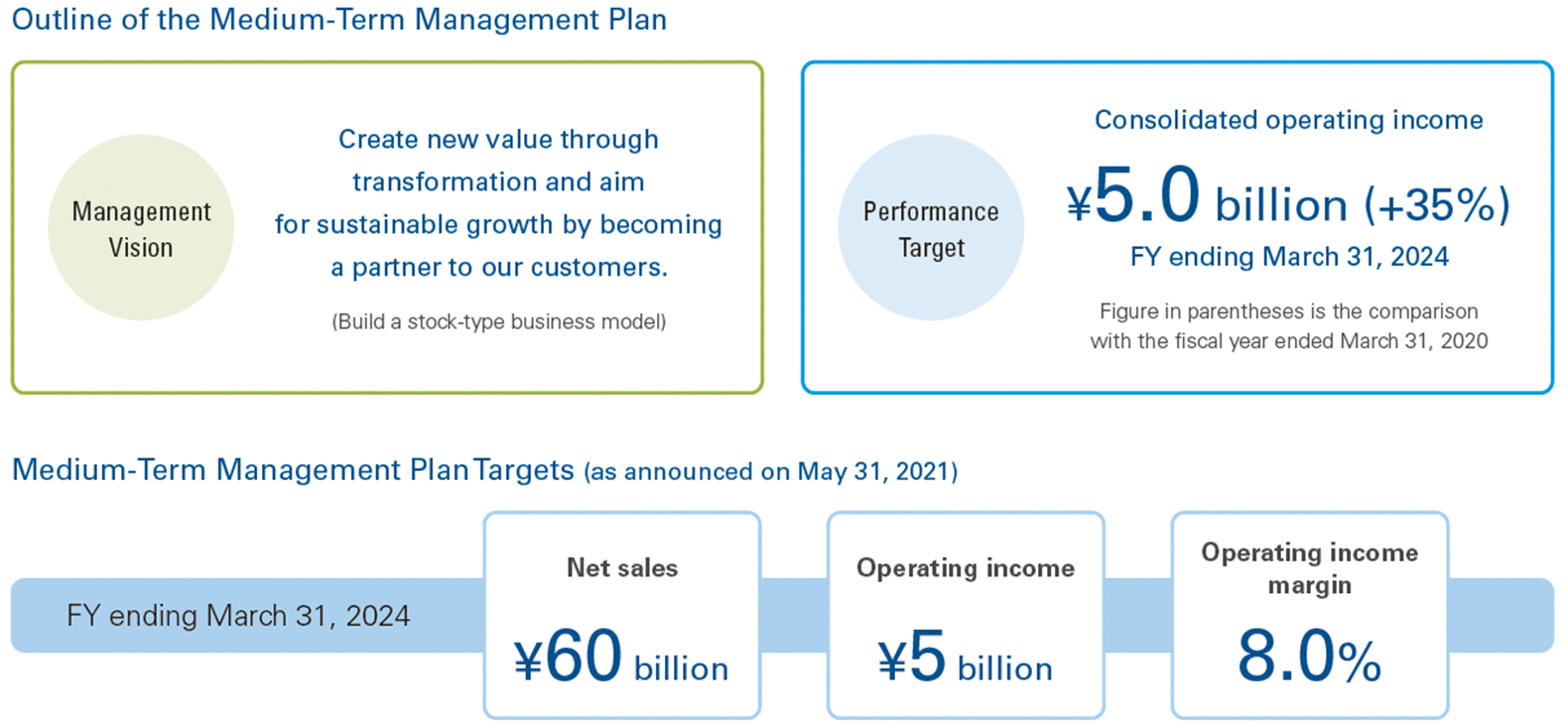 ESG Initiatives Consistent with Our Management Philosophy
Our Mission Statement is "Love," and our Management Philosophy is comprised of "Love yourself," "Love others," and "Love the company." Companies are an innate part of the local community and country, and through our company, we give back to them however we can. That is what "Love the company" means. Also, people seek to improve themselves and show consideration for their families, friends and neighbors. This is what "Love yourself" and "Love others" mean. The Company's stance toward ESG is rooted in this Management Philosophy. For the Company, work itself is social contribution. For example, since our foundation as a company based on the Rental Business, we have declared our intent to aim for "the rationalization of asset-holding" throughout society. Also, by constantly offering products with outstanding workability and safety, the Company tackles social issues head-on, such as the labor shortage caused by Japan's declining birthrate and an aging population. Also, consideration for the environment is an inseparable part of our business. We contribute in ways such as providing products for the repair and maintenance of infrastructure as well as for use in storm and flood damage countermeasures and to prevent building collapse due to earthquakes.
For human resources, based on our Management Philosophy we regard the creation of an environment in which our employees can work with independence as the most important issue. We are also conducting various measures to cultivate our human resources, as it is critical to develop employees who can independently generate new ideas and make and carry out proposals, as well as personnel who have a high degree of expertise. The aforementioned Project Leader Conference, which focuses on our young leaders, is one such measure. Obtaining information from a position close to management enables our young leaders to act independently, which leads to their development. In addition, we are moving forward with initiatives such as the introduction of an incentive system for individuals, and allowing employees to dress casually when doing office work, which is a rarity in the construction industry.
Work-style reform is also necessary, as increasing productivity is a characteristic of the Company's business. While we had already been conducting such initiatives, current trends in work-style reform will lend impetus to our efforts. Going forward, we will advance unique initiatives that are not limited by conventional thinking. We will continue to strengthen our management with a focus on human resources.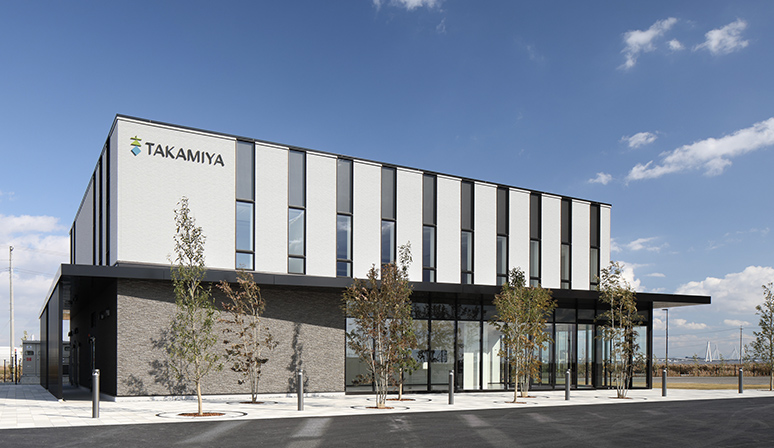 The enhancement of corporate governance is also critical for reinforcing the management  foundation. Given the growing importance of governance, the Company has in place a system under which the Board of Directors, which includes Outside Directors, provides strategic guidance and management supervision and a Board of Corporate Auditors, whose members, including Outside Auditors, audit Directors' execution of duties. We strive to strengthen cooperation in audits between the Corporate Auditors and the Internal Audit Office. In June 2020, a new auditor was appointed. I anticipate that he will be able to apply the knowledge he has gained serving as General Manager of the IT System Department in strengthening governance. We are also making efforts for speedy disclosure of information. In addition to increasing the accuracy of information, we want to conduct more proactive disclosure.
While considering the rejuvenation of our management team, we are making progress with delegating authority to Division General Managers so as to avoid concentrating power in top management. Division General Managers responsibly take part in corporate governance by sharing information as they conduct business management. Interdepartmental management has also been strengthened and management policies are being strictly enforced. Increasing the number of individuals with knowledge related to management has also facilitated developments toward the next Medium-Term Management Plan. Given the substantial progress of management training, we anticipate that the number of management personnel able to oversee the Company will increase.
Creating Products and Services That Have Never
Existed Before—
That Is the Essence of Takamiya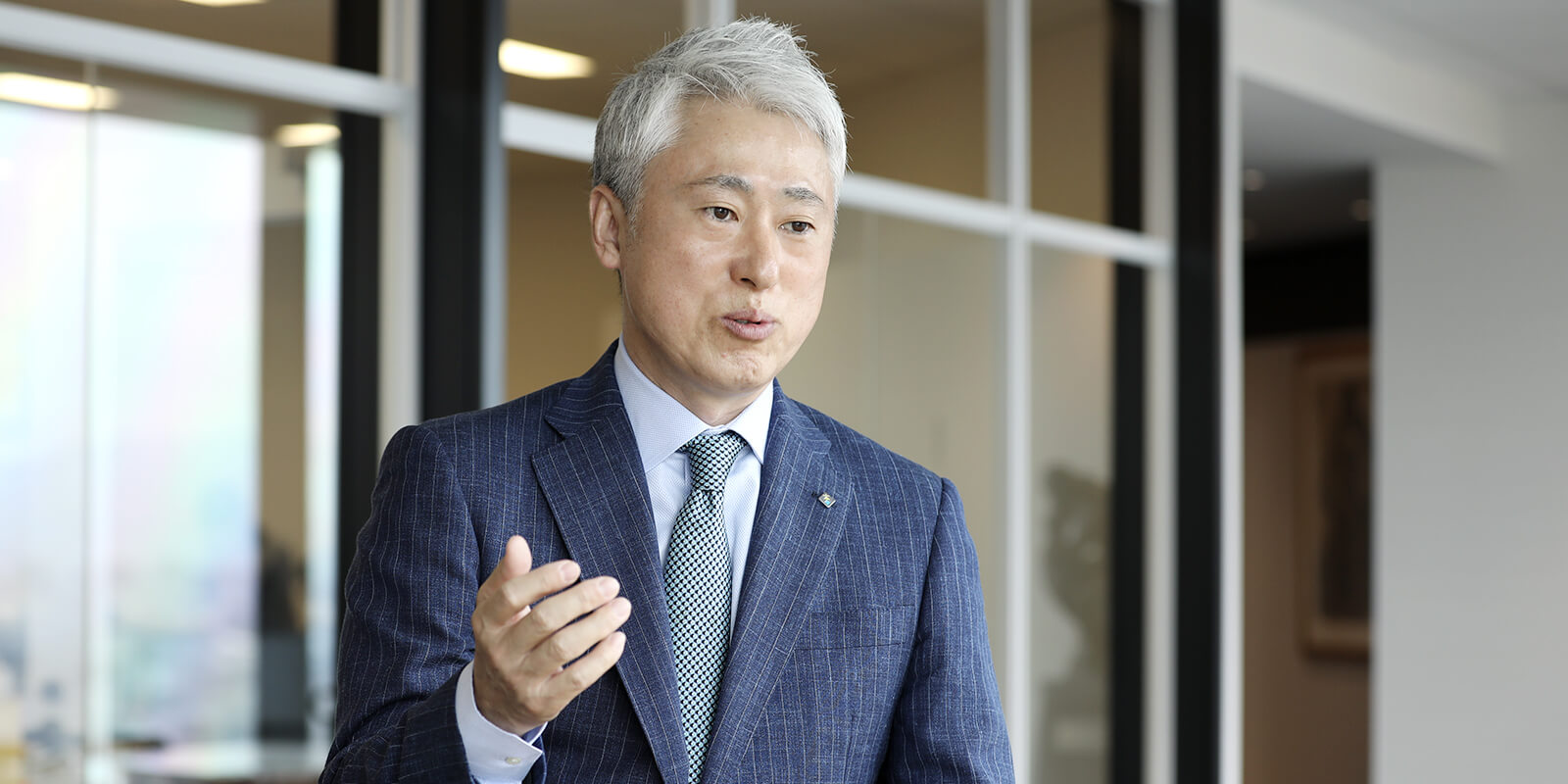 We are often asked what our main business is. It is scaffolding rental? Scaffolding development? Scaffolding installation? Sales and marketing? As I mentioned previously, our transformation is aimed at having all our businesses generate synergies while growing and advancing as individual businesses, and to create new products and services that have never existed before.
Because we are developing our business with a focus on the future, it may be difficult to understand or assess the Company in one-year increments. If stakeholders observe our business over a three- to five-year time span, I believe they will be able to more clearly discern our growth trajectory.
The Company is transforming its business model with an eye to long-term growth. However, we will hold fast to the fundamental policies that have served us well to this day, and will not deviate from our course. Maintaining our course, we will drive qualitative development of the entire construction industry by creating products and services that have never existed before, and aim to actively develop business so as to be of service to society. In the fiscal year ending March 31, 2021, the final year of our current Medium-Term Management Plan, we will work to formulate the next Medium-Term Management Plan.
Going forward, Takamiya will continue taking on challenges to increase its corporate value, such as its earnings power and brand power, by offering new frameworks in addition to developing and providing high value-added products that are useful to society. I sincerely ask all of our stakeholders for their continued support as we move forward to meet and exceed their expectations.
Kazumasa Takamiya
Representative Director, President and Chairman
Annual Report 2020
(PDF:6.8MB)
To learn more about Takamiya's strategy and its current status, please click here.